About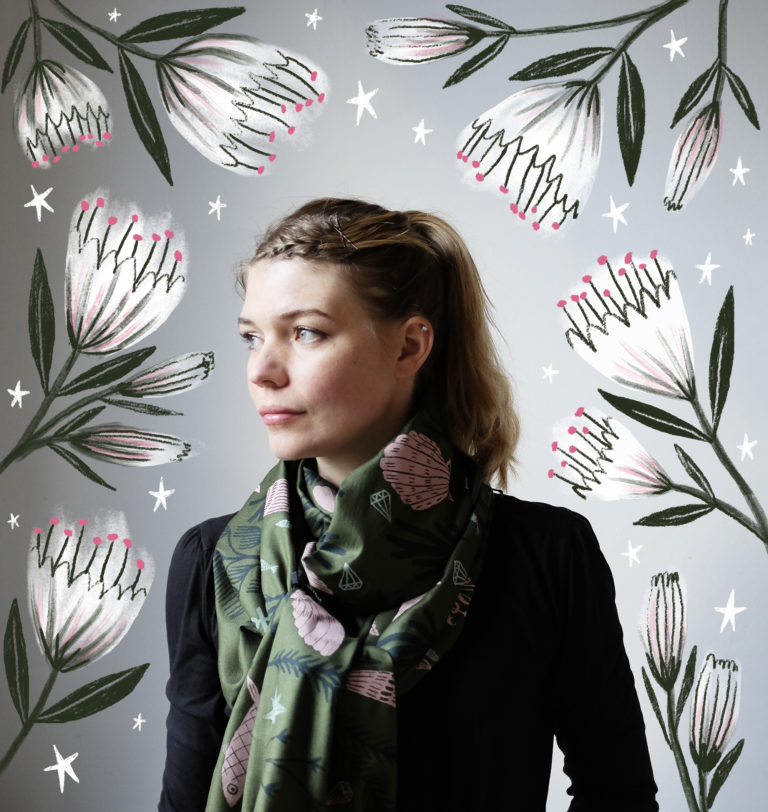 Hello! I am an artist and illustrator living and working in Cornwall, UK.
I am hugely inspired by the rural, coastal landscape I live in and I enjoy observing the relationship of people to nature and to each other, often defined in the phrases, text and weird and wonderful celestial and mystical symbols I like to add to my work. Representations of real life sit alongside more abstract shapes and I like to reimagine the world through vibrant colour, decoration and exploration of scale and perspective.
I work both digitally and with traditional materials, which definitely have my heart over drawing with pixels. My work is a mix of wax pastel, acrylic paint and ink, pencil, and my favourite tool of choice, the marker pen in all of it's guises!
Alongside illustrating and making art I also run a little business – Bonbi Forest – which is where I sell my art on cards, posters, homeware and stationery. Bonbi Forest is stocked in shops all over the world and has been featured in numerous publications. I have been lucky enough to collaborate with several companies producing all sorts under the Bonbi Forest name, from puzzles, to homewares, embroidery kits, books, stationery and calendars. Some of which can be seen in my portfolio here.
If you like what you see in my portfolio and would like to commission me to make some art for you please do get in touch and we can discuss your requirements. I look forward to hearing from you!
Alternatively, available work can be purchased via the Bonbi Forest website: www.bonbiforest.com
On a non art note I love to hang out with my two beautiful children and web designer husband, beach comb on our local beaches and when the opportunity strikes, saddle up for a ride on one of my family's horses…
Thanks for coming by!
Lee
You can learn more about my process on my YouTube Channel and see all the latest updates on Instagram and Facebook
I have had the pleasure of working with:
Quarto
Compendium Inc
Lionheart Magazine
Ohh Deer
In the Moment Magazine
Mollie Makes Magazine
Paperie
Send a Cow
Design House Greetings
Cause
Bravery Magazine
Sellers Publishing
Half Moon Bay
Otter House
Amber Lotus Publishing
Calypso Cards
Scholastic
Earlybird Publishing
Olympia Le Tan
Museums and Galleries
Godiva Chocolate
Bothy Threads
Stringberry
Wentworth Puzzles
Woodmansterne