About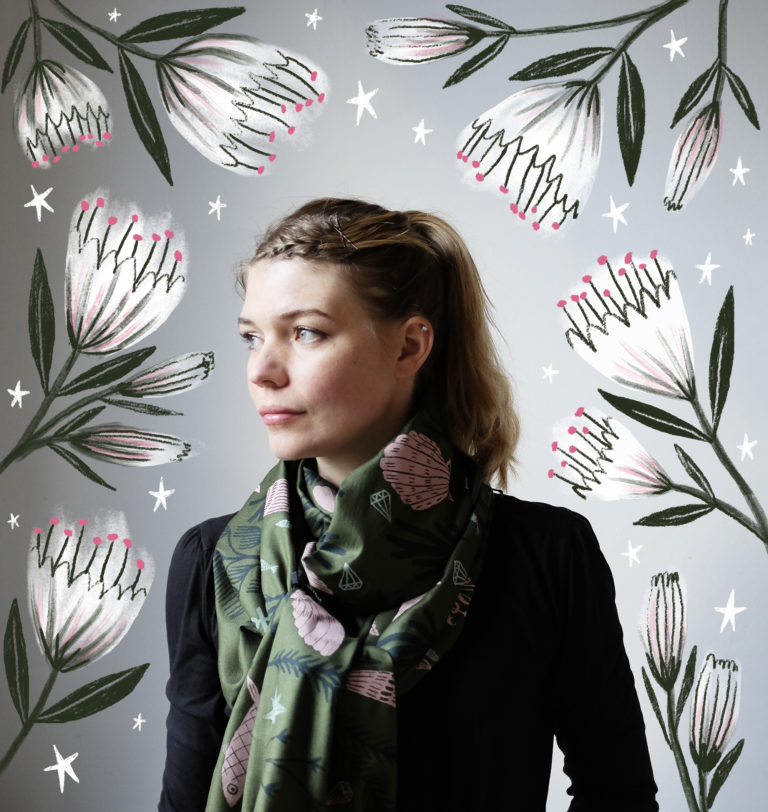 Hello! I am an artist and illustrator living and working in Cornwall, UK. I am hugely inspired by the rural, coastal landscape I live in and like to work with traditional analogue materials as well as digitally, though my favourite tool of choice is (and will probably have my heart forever) the marker pen in all it's different guises.
I grew up surrounded by my family's menagerie of animals, riding ponies and swimming in the sea after school. These experiences when I was young have defined and influenced the things I seek out as inspiration, the shapes and colours of the natural world always seem to make an appearance in my work no matter what I am drawing! I enjoy observing the relationship of people to nature and to each other, often defined in the phrases, text and weird and wonderful celestial and mystical symbols I like to add to my work.
Alongside illustrating and making art I also run a little business – Bonbi Forest – which is where I sell my art on cards, posters, enamel jewellery and pins and stationery. Bonbi Forest is stocked in shops all over the world and has been featured in numerous publications including Vogue, Grazia, Elle, The Guardian, Woman and Home, Essentials, Making Magazine, Mollie Makes, Look, Good Housekeeping, Marie Claire, The Sunday Times Style Magazine, The Independent, Metro, Now, Woman's Own and Nylon as well as many online features, and very proud of them all I am too!
In 2017 I fulfilled a dream and had the pleasure of releasing my first book with Quarto! Creative Marker Art and Beyond is full of tips, trick and projects about making art with the humble marker pen (did I mention it is my favourite tool?!) In 2019 my second book with Quarto was released too: The Grown Up's Guide to Making Art with Kids is designed to help adults learn how to draw the things children like to see through step by step tutorials and then how to follow on from that with creative makes and projects to work on with children.
If you like what you see in my portfolio and would like to commission me to make some art for you please do get in touch and we can discuss your requirements. I look forward to hearing from you!
On a non art note I love to hang out with my two beautiful children and web designer husband, beach comb on our local beaches and when the opportunity strikes, saddle up for a ride on one of my family's horses and pretend I'm as good at dressage as I used to be pre-kids…
Thanks for coming by!
Lee
Find me on:
and for an exclusive deeper dive into my work and running a small business, Patreon
I have had the pleasure of working with:
Quarto
Compendium Inc
Lionheart Magazine
Ohh Deer
In the Moment Magazine
Mollie Makes Magazine
Paperie
Send a Cow
Design House Greetings
Cause
Bravery Magazine
Sellers Publishing
Shruti
Otter House
Amber Lotus Publishing
Calypso Cards